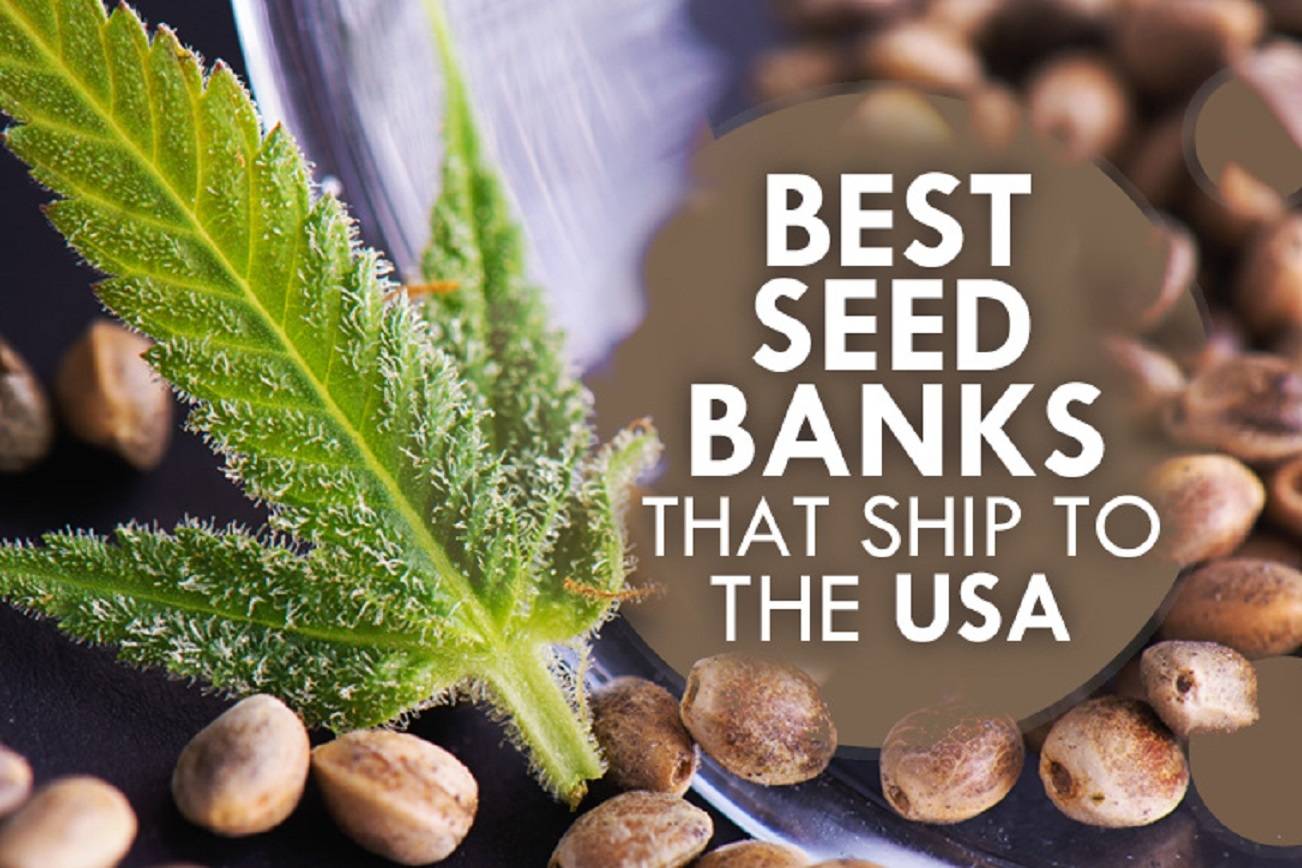 Have you ever dreamed of cultivating your own personal collection of the most popular and strong cannabis varieties? It's now possible and even easy thanks to our list of the best seed banks in the US (United States).
Take a look at our selection of the best seed banks shipping to the United States!
Best Online Marijuana Seed Banks that Ship to the US
I Love Growing Marijuana
Over 100 feminized and autoflowering seed packs are available for purchase at Robert Bergman's I Love Growing Marijuana (ILGM) online marijuana seed bank. There are more over 500 articles on the ILGM website, as well as over 200 grow guides. It's a little costly, but the seeds are guaranteed to germinate. Fast and reliable delivery is also a certainty, as seeds are distributed everyday across the United States and arrive between two to ten days. Payments can be made with a variety of methods, including credit cards, debit cards, bank transfers, and cash, or you can use Bitcoin to get a 10% discount. More than 93% of the 10,000+ ILGM reviews on kiyoh give it a rating of 9.1/10, making it a highly recommended seed bank. All orders are shipped gratis to the United States.
Crop King Seeds – Marijuana Seed Bank
There are more than 100 Crop King Seeds locations in Canada, as well as an impressive internet presence. Since its inception in 2005, the company has been selling only the highest-quality cannabis seeds, and it was the first to have an internet presence. In 2017, the Canadian cannabis awards presented to the company the Top Seed Company honor.
The seed can be shipped to the United States in as little as two weeks by conventional shipping, or in as little as five to seven days via rapid freight. A discrete shipping method with a 90% success rate due to US customs' reluctance to accept items from Canada. Sativa, Indica, and hybrid strains of marijuana are among the more than 30 seed options available to the corporation, which has a germination rate of 80 percent. The company will replace the seeds if they don't sprout after you contact their customer support. You may reach a customer service representative via phone, email, or live chat on their website at any time of day or night, and you can expect nothing but the best from them.
As a result of the company's long-term relationship with its customers, they have a wide network of retail partners with actual storefronts, which further strengthens that trust. For a fee, the company promises delivery and will resend a parcel if it is intercepted by customs officials. In order to purchase seeds, you can either use a credit or a debit card; money orders; bitcoins; Interac E-transfers; or Interac E-transfers.
Seedsman
Seedsman, a UK-based firm, is a great place to buy marijuana seeds on the internet. Since its inception in 2003, the business has built a solid reputation and a loyal customer base. More than 65 seedbanks throughout the world supply the company with more than 3000 varieties of marijuana seeds. The company also sells seeds under its own brand through its website. Anxiety and depression are only some of the conditions that can be alleviated with the use of medicinal seeds that can be found. All of their seeds are sold for a pittance, but they are still of the highest quality. The seeds are shipped to the United States in distinct packaging and arrive in 7 to 25 days.
As a result, they also provide an ultra-stealth shipping option that guarantees arrival, regardless of the circumstances. In addition to English, the company's website can be accessed in Italian; German; French; Spanish; and Portuguese. Their website features a variety of payment options, including credit card, debit card, bitcoin, pot money, and a number of other options. They accept a wide range of currencies, including US dollars, Australian dollars, British pounds, Canadian dollars, Japanese yen, Russian roubles, Polish zlotys, Swiss francs, and Brazilian reals.
You may get a wide variety of cannabis stuff at Seedsman, from clothing to books to storage containers. That's not all; the seed bank is well-known for its seed-buying specials and deals. Every time you make a purchase, the company gives you loyalty points that can be redeemed for future purchases.
Rocket Seeds
This Canadian seed bank contains one of the largest online collections of cannabis seeds. Cannabis strains and seeds from top seed banks have been gathered by the company. Because of this, Rocket Seeds has formed partnerships with renowned seed companies such as Crop King, Beaver, Sunwest Seeds, Blimburn Seeds, and Mary Jane's Garden Seeds in order to supply the highest quality cannabis seeds possible. Seeds from Rocket Seeds include feminized and auto-flowering varieties as well as standard and high CBD strains.
Customers from all over the world, including the United States, are served by the company. All Canadian customers will receive their seeds in their original package, while customers outside of Canada will receive them through a stealth shipping method. Unrelated items like pencils, torches, flash drives, and birthday cards may be used by the corporation to package cannabis seeds. If you order from Rocket Seeds, rest confident that your item will be delivered in a discreet package without any logos or marks.
When it comes to purchasing marijuana seeds, Rocket Seeds allows a wide range of payment methods, including PayPal and money transfers, credit cards, Bitcoins, E-checks for US customers, and Interac for Canadian customers. The majority of seed banks will not take mail-in payments made in cash, but Rocket Seeds does accept them. For orders above $200, Rocket Seeds provides free shipping. In addition, if you spend $420 or more, you get 10 free marijuana seeds.
Customers of Rocket Seeds can choose from a variety of reliable shipping options. If you're buying locally, standard shipping takes 2-7 business days, and international shipping takes 7-21 days. Tracking options are also available for expedited express delivery, which typically arrives within 5-7 business days in North America and 7-14 business days for international shipments in North America. Within 2 to 5 days, Canadian consumers receive their goods, which include freebies.
You can find some of the greatest marijuana seeds from seed banks like Crop King and Sonoma Seeds. Rocket Seeds offers Auto Critical CBD Seeds, AK47 Seeds, and Acapulco Gold Seeds as some of their main strains. With the help of these detailed guidelines, customers may get the most out of their fresh and viable seeds. Check out Rocket Seeds if you're looking for high-quality marijuana seeds for medicinal or recreational purposes.
Dr Seed Bank
Founded in 2015, Dr Seed is a relatively young company that has been making headlines ever since. They exclusively provide premium marijuana seed to customers all around the world. There are a lot of good things to say about this company online. The company's customers are pleased with the high-quality strains it produces. The seeds will arrive in 15 to 30 days if you order from the US. However, if your purchase total is less than $245, you will be charged a $15 delivery cost. The seeds are carefully concealed inside the box upon shipping to ensure maximum discretion.
A variety of items, including toys, pencils, and T-shirts, are used to hide the seeds, making them nearly undetectable. Loyalty points may be earned with every purchase on the company's website, making it a popular choice for customers. You can use your Kush points to buy a product from their website once they've accumulated. More than 4000 different strains are available from the company, which collects strains from the world's best cannabis seed banks and breeders, so you have a lot of alternatives.
For only $10, you may buy a guaranteed overseas shipping that ensures you get your seeds. In the unlikely event that your delivery is lost or misplaced, they will send you a new batch of seeds. Aside from that, it sells products associated with the legalization of marijuana. You can pay using a debit card, a credit card, a check sent through the mail, or bitcoin. On working days from 9 a.m. to 5 p.m. GMT, you can contact the support team. The legal status of cannabis in the United Kingdom must be thoroughly researched before making a purchase.
MJ Seeds Canada
Since 2009, MJ Seeds has become one of Canada's best seed banks. MJ Seeds provides a wide choice of high-quality seeds and strains to choose from, and they transport their products all over the world. With this Canadian online company, you can be confident that your marijuana seeds will arrive in a timely manner and that you will receive the greatest customer care.
MJ Seeds offers a wide variety of marijuana seeds, including outdoor, indoor, medical, and feminized. When compared to other seed banks that export to the United States, their marijuana seeds have a very high germination rate and affordable shipping costs. The company also offers a service called "stealth shipping" to safeguard its customers, and it alters its shipping methods frequently to keep orders from being detained at the border or customs.. MJ Seeds not only sends orders in safe packaging, but also in the form of technological gadgets, toys, and greeting cards.
MJ Seeds Canada offers MasterCard, Visa, and Bitcoin as payment methods. Orders between $30 and $60 come with insurance and a tracking number, so you don't have to worry about missing out on your order. This means that you will always know where your package is and when it will arrive at your door. Aside from that, customers who have selected the "guaranteed delivery" option might expect reshipments.
Every customer who spends $100 or more at MJ Seeds' online store will receive a free pack of seeds. Feminized seeds come with an additional 5 feminized seeds if you order. Customers who purchase ordinary seeds receive an additional 10 regular seeds as a gift. Regular mail services throughout Canada and the United States take anything from 7 to 21 days, while express goods require at least 7 days.
Most popular MJ Seeds cannabis seeds are Auto Berry Feminized, OG Kush, Bubba Kush Feminized, White Widow Feminized, AK-47 Feminized, Diesel Autoflowering Fem, Short Rider Autoflowering, Northern Lights Feminized and popular mix and match combo packages.
Sonoma Seeds
Canada's West Coast marijuana seed source, Sonoma Seeds, is known for its high-quality marijuana seeds. Organically cultivated cannabis seeds are a specialty of this company. When using seeds from this company, you may expect a germination rate of at least 80% if you follow the manufacturer's strict instructions. Seeds from this seed bank can be shipped domestically and internationally at reasonable costs. In order to qualify for free shipping, customers must order at least $300 worth of goods.
In the case of Sonoma Seeds' cannabis seeds, you can be confident in their quality. The seeds that the company sells are grown from cannabis plants that have been hand-selected for their high quality genetics. The company's motto is "grow organically" because it thinks that great cannabis may be derived from plants that have been cultivated as naturally as possible.
Regular shipping is $10 and does not include tracking information. Customers in Canada should expect their orders within 3 to 7 days, while those in the United States can expect their orders to arrive between 7 to 14 days. Shipping can take up to 21 days for international customers. It is possible to pay for your order using Bitcoin, MoneyGram or a credit card at Sonoma Seeds. They also take Interac and cash.
If you're a local or foreign customer, this seed bank offers an Express Tracking delivery option for just $30. If you're ordering from outside the United States or Canada, international shipping with tracking is a great option for $30. Cream Caramel, Super OG Kush, Bruce Banner, LA Confidential, and Bubblegum are some of the most popular items from Sonoma Seeds. Seed producers may keep up to date on the latest specials and offers from Sonoma Seeds by visiting their official website or signing up for their email.
Choosing the Best Online Marijuana Seed Bank
It's not always easy to pick the best online seed bank. It's difficult to know who to trust in the face of so many frauds and scams, as well as terrible enterprises out there just waiting to steal your money. We at the-junky-g.com want to keep that from happening, which is why we take the time to examine some of the best and worst cannabis seed banks available. In this section, you'll learn a few strategies to ensure that you're selecting the correct online seed bank for your marijuana needs.
Take our advice and you'll prevent a lot of headaches, disappointment, and buyer's regret in the future, as well as fantastic seeds!
Strain Types
You'll want to check out any online seedbank you're contemplating to see if they have any strains you're interested in purchasing. If you're seeking for a certain strain or strains, you may not be able to find them in every shop.
When looking for anything special, it may be advisable to contact customer service directly to see if they have the strain you're looking for, rather than relying on the company's website. Even if there isn't one particular strain that you're looking for, be sure that the seed bank you're considering has a few of the greatest weed strains that you know to be of the highest quality.
Trying new strains that you've never tried before may be a lot of fun once you've established the quality of the seeds available at a certain seed bank.
Payment Methods
The various payment options accessible should also be taken into account.
In general, bitcoin is the best method of payment for these kinds of transactions. The only people who should use it are those who live in states where marijuana has not yet been decriminalized. It is the most private method of payment available to the average user.
Bitcoin is now accepted by a growing number of online seed banks, however others only accept cash, credit card, or PayPal as payment.
Even if you live in an area where the purchase and sale of cannabis seeds is legal, if you use one of these payment methods in a region where this is not, your delivery may be intercepted and you may even be placed under investigation by your local authorities. That's a terrible idea! You can avoid a lot of difficulties down the road by being cautious about what payment method you use.
Shipping Range and Stealth Methods
There are a few exceptions to the rule when it comes to online cannabis seed shops shipping globally. You'll want to be sure that the seed shop can delivery to your location before purchasing. There is a good chance that you will struggle to even complete your order in this case.
Buyers with foresight will also investigate the seed banks' delivery methods, especially if they are located in countries where these products may be considered smuggled.
Identification marks on the package's exterior increase its chances of being seized during transit through customs in your country or an equivalent. If this happens, you won't get your stuff, you may or may not be able to get a refund, and you could even be brought to court for it.
For the rest of your life, you'll be scrutinizing every single overseas delivery you get because of an one package. A single intercepted package might imply that even the best stealth packaging strategies are rendered ineffective if all of your shipments are extensively inspected.
If you don't want to have a red flag flying over your head for the rest of your life, you need to make sure that the shipping methods employed by the firm are adequate before making a purchase. Read customer reviews to check whether any of the parcels have been intercepted and if consumers have been happy with the stealth packaging.
Customer Service
Choosing a seed bank based on its reputation is one of the most important decisions a buyer can make. In the retail world, there are long-established businesses with a significant following of repeat consumers, and then there are the start-ups that appear out of thin air and go unnoticed for years. It's not hard to figure out which option is the best one to take.
A shop's level of customer service can also serve as a reliable litmus test for its overall quality. Good, trustworthy businesses will strive to please their clients as much as possible by providing them with high-quality products and repaying them sufficiently if they make a mistake on an order.
Bad businesses are simply focused in making money, not providing you with a good experience. As a result, their customer assistance will be unhelpful or even unpleasant at times. A shop that consistently provides poor customer service should be avoided.
If you're looking for the greatest seed bank, you're probably going to run into some duds. Keep your losses to a minimum by being aware of the early warning signs of a bad seed bank. Before making a purchase, consider the available strains, payment methods, shipping range, stealth shipping procedures, reputation, and customer service of the vendor you're considering.
You'll never have to worry about a terrible bank again if you follow these guidelines and read the evaluations we offer on our site!
Frequently Asked Questions
Why do marijuana growers in the USA rely on Seed banks from other countries?
It's still unlawful to possess or consume marijuana, even if it's legal in many states in the United States. To identify a CANNABIS SEEDS USA store or an AMERICAN SEED BANK, it is tough because the legality is also state-specific.
What happens when customs confiscates your package?
You might expect to have your package returned to you if the US customs locate marijuana seeds in it. Also included is a letter notifying you that the seeds have been confiscated. When that happens, contact the seed bank you purchased the seeds from and present them with proof of confiscation, and they will send you a new batch of seeds.
Should I open an Account before purchasing the seeds?
It's not always the case. As a guest user, you can purchase seeds from seed banks that don't require you to sign up for an account beforehand.
Final Thought
Before placing an order with a seed bank for the first time, do some research about the firm. Before making a purchase from a seed bank, ask yourself a few things. How well-known is the seed bank you'd like to purchase seeds from? How specific about the type of seeds do you want to buy? Is the quality of the seeds good? The seed bank has a user-friendly website, or does it? Customer service response time What's their demeanor? Do you have any information on the company's regulations regarding covert shipping?
When you complete all of the questions above, you will know which seed bank is best equipped to supply you with the services you need. If you don't perform your due diligence, you'll easily fall prey to scam seed banks who are more concerned with making money than delivering high-quality products. Seeds from a reliable source are the first step toward a good marijuana plant. Locating the greatest seeds necessitates the next steps of finding the best grow tents and the best led grow lights.